Thursday, October 31, 2002



Long night last night but the tent is up, tarped and blacked out. I have run 90% of the wiring and pneumatics all the speakers are in place. Still to do... gotta get hay!!! No props are out yet but they will all go out in a 2 hours or less. Then it just a big tweak session. Not enough hours left... gotta go take Dade to school... i.am.feeling.spooky




Tuesday, October 29, 2002



Ok today is THE day I turn into a giant AHOLE! Building starts tonight most likely. I will be disassembling tonight and time permiting reassembling in the front. Also time permiting tarping the front up as well. All I can do is hope for the best hope to get some sleep. We'll see! All the fun is going to start thursday night at sundown... may be a bit much for the younger crowd but it's not gory or real real scary.

Now your iPod can do more than just play music... lust lust lust

I just like this... I may build one....

If this is real, how cool is that! I can see a little box you put on the nightstand for your keys, jewelry phone and pda with this product as the base... always charged! Excelent...



Last minute costume idea for your kids...



Ever wonder why I'm a big Nutscrape/Mozilla proponent... here is why!

Did you notice it's getting darker sooner? ever wonder why?

GEEK OUT ... mandatory geek reading...

i.am.outtatime.samu




Monday, October 28, 2002



Damn I was sick yesterday which puts me even further behind... I need carpet! Carpet and more carpet! I have a very very wet yard right now and I think I'm either going to put down some hay or some carpet to keep the yard from turning into a mud bog... anyone have any ideas? I've started to contact the local carpet companies and they all allow dumpster diving so be on the look out for me please!

Pop ups! Have you seen the commercial with the guy on his computer and your sure he's playing a video game... he's just banging away on mouse wiggin out and all and the cmera spins are an he actually killing pop up ads! now you can play too. ... I got to 125 and had a cramp!

This article talks about the military is trying to come up with a paint that can change patterns on the fly, as well as self heal when cracks or corrosion occurs.

Dear Saddam... Saddams email account was hacked into ... funny...

...about hay... anyone know a good place in Baytown to get some hay? i.am.samoooooo




Thursday, October 24, 2002



thanks to R again!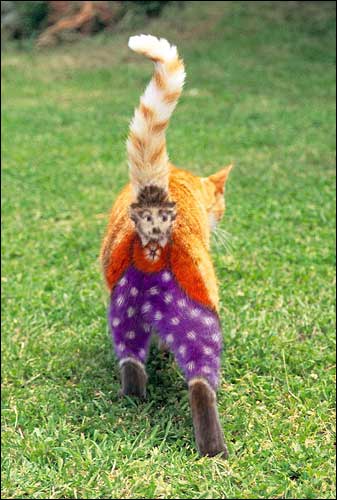 Well it looks like they caught the sniper(s)... and the World Series is tied up... I am knee deep in poop trying to get Halloween on track for this year... rain rain go away! I may have to call it all off if the rain persists. I spent yesterday evening wiring up my event control timers. I just need to add the motion sensors and the relays(which I have) and I'll be all set to fire some props!

This was fun in the day... can't remember enough to solve it online though.

Now we are talking... 2.5G w/DVD+RW and Geforce 4 for $1k Bam! I might be able to even beat this!

Disc tatooing a CDR! Bad ASS!

Case Modding is cool! and some of you did not know what I was talking about last time...

I gotta go... stay fry... i.am.samu 6 days!!!! ARGG!!!!




Wednesday, October 23, 2002




thanks to R for the pic...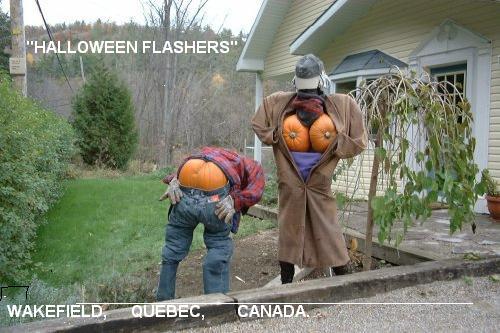 Halloween is approaching with great speed! I am having some great difficulty with the weather though... it's raining so much that even the tent is unable to keep out the wet... it's not leaking through the tent, it's coming from under the ground! Everything is so saturated, it may call off the whole thing! DAMN! IT!

Speaking of Halloween, what do you do with your leftover pumpkins? Shoot them from a cannon of course... about 5 miles! WOW!

Do you need a costume idea? These people have alot of ideas!

Did you all hear about the largest ever attack on the internet? Me either...

/. It looks like Satelite radio is going in the tank... no shit... didn't I say that before they built it?

TSS I guess case mods got so popular that you can now buy them pre-modded. Where is the fun in that?!

It looks like Alaska had a big earthquake this morning, maybe it was that giant 14 foot bird they have been seeing up there recently!

Since I do not post enough pron on here... have a look at webcamnow.com... it's mostly guys "Doin' the Han Solo" or Grooming the Wookie but you can usualy see some ladys Jillin' Off and the occaisional couple is on there as well... there is a voice chat if you use IE also, but it's not very good...

i.am.sam




Monday, October 21, 2002



Work work work... oh yea and a trip through the closed freeways of Houston to see Formula 51... Who's fantastic idea was it to close I-10 W at 59 and force you on to 59 N? Only to U turn to head back S and have 59 S closed at 288... forced to 288 N we we took Med center streets to our theater only to be shut down trying to get back on 59... incredible! Formula 51 was pretty cool ... Samuel L Jackson playing a Bad Mother Fucker in a kilt! You gotta love that formula. So is it real?

Only one link today...it's late and I'm tired...Google is being sued over page ranks and a devaluation. I find this somewhat disturbing...

i.am.sam





Thursday, October 17, 2002



Working on my halloween stuff... that's all I'm doing these days... Dade went to the rodeo last night he had a blast. Oh yea I went to Flats for lunch today... I haven't been there in years and who do I see when I walk in? G and J! The 2 who used to go there with me all the time... freaky!

Do not call him Brian!

FREAKIN' COOL!!!! Next gen holo images are being made that can be viewed from all sides in complete color with no head gear to wear!

Fuel cells are coming! If you can get this link to work you can read about how Toshiba is building a fuel cell based laptop and maybe a pda too! Soon and I mean a few years we'll all have fuel cells in our homes... I look forward to the day.

Lastly if you think I'm nuts about halloween, check out these guys! They are building a dark ride of their own! To cool... maybe next year... just kidding hon! No really... ummm nevermind... i.am.sam






Tuesday, October 15, 2002



It's looming closer and closer... do you have a costume yet? I have nothing new to say today so let's have a few links...

It seems that Microsoft had this page on thier site and someone noticed it was all a big fabrication. They also noticed that half of it is was untrue so MS pulled the page down... well thanks to google's cache! you can still see it! Here is the full story about it on Yahoo!

Did you know that Redheads need more anesthesia? ... I did not.

Next time you need help with your computer call these guys. Thanks to G for the link!

TECHNOLUST ALERT
It looks like the iPod may have a competitor. Nomad Jukebox Zen always remember to






Some TechTV people are heading to Houston, read about it here.

AOTC is coming to DVD VERY SOON. Now we can watch Yoda go Jackie Chan on Dooku over and over and over!

i.am.sam







Monday, October 14, 2002



What a weekend! Dade turned 5 this weekend. Angie and her mom got home just before his party on Saturday... phew I was pooped but they drove through the night, they were double pooped. Watched Scooby Doo last night... man I noticed the drug references the first time but when your watchig for it damn, they are everywhere! "Hi my name is Mary Jane." "Like that's my favorite name maaannnn!" to funny...

Nostalgia... IUsedToBelieve.com is a site about things we believed as a child, like...
I used to believe that if you picked your nose far up enough, a snail at the top would bite your finger...Jenny

Lucasfilm is very serious about the Star Wars franchise... read this Slash Dot article...Leak Star Wars, Go To Jail

nite nite... i.am.halloweenin'.sam




Thursday, October 10, 2002



Sam has been a busy boy... much to much going on to talk about ask me privately about my dotcom woes...

Angie's dad is getting better, he made it through surgery fine and should be out of ICU today. Angie and her mom there in Kentucky with him and may or may not make it back for Dade's Birthday this weekend...

I do not know what to make of this but this was the site of the nite on the The Screen Savers last night! spooky!





Weird - Angry Naked Pat - for the link impaired... meat

Funny - Hard-Drinkin' Lincoln

I just don't know - Simpsony kinda

WOW - 8legged.com ... this could be a glimpse of interactive tv!




Just in case you ever wanted to cook with Bigfoot there is now a website just for you!

Do you have a Psycho Ex-Girlfriend?

have fun... i.am.sam