Saturday, September 27, 2008



http://www.youtube.com/experiencewii
Warioland Shake it! for the Wii - you have to see this! thanks \to the R for the link!




Wednesday, September 24, 2008



http://www.comcast.com/Corporate/Customers/houston.html?fss=houston
Comcast Customers Outage map




Friday, September 19, 2008



For those following it's day 7 and still no power. One of my colleagues got power back yesterday so I am going to hopefully get his generator today. Also I sent Angie and Dade to stay with friends in Dallas. The humidity returning, the mosquito's, some heat coming back and the lack of power and hot water was just to much. I felt as though I was having to keep them comfortable as best I could, coupled with clean up and extended work hours was just proving to be to much. Now I know they are up there in comfort and eating at Sheridans it makes me feel much much better about things.

I also want to say thank you to all of you have offered to help and a place to stay and everything it means so much to have good friends at times like these.

For those that asked... I have not done a full inventory but I got my paper prop box out last night and there is some minor minor water damage to my Drawing of Rose from Titanic and on the cover of my Wampa Indy Grail Diary but neither is bad. I did have some major water damage to my Time Bandits Map but as I stated before it's supposed to be weathered and even though I wanted to frame this one and keep it pristine I guess it's now going to get a full on weathering job so the "damage" is just start of the weathering process... it's hanging out right now trying to dry out, hopefully it does not ruin it.




Thursday, September 18, 2008



I failed to post this yesterday it seems...

One tree tops out and hits the house in the front... scrapes down not big deal... then tree number 1 falls on the house with a large boom. Again no penetration, scary but so far so good. Things are just getting started… then the big boom comes... by now I'm used to it, Angie is not... she jumps up... why is there a breeze? and why does it smell piney fresh?!?!

Oh theres a hole in the wall... will you look at that... hmm better check the attic... hey there a tree in here! That's not supposed to be there!

So every time the wind blows hard the roof is heaving and caving in... mind you all of the rafters are just shattered and the major spine of the roof line is cracked up. I better brace this up before it comes through the house. I go out in the height of the 1st part of the storm to the garage, where are the framing nails... damn it!!!! Every kind of nail and screw under the sun except framing nails. I go back up in the attic and fashion some bracing that is dubious at best. I am sure that the tree is eventually going to cave in the rest of the way but I've done the best I can with what I have. Now on to the room... water is pouring in by the bucket loads and this is where all my props are! Get everything out I can... throw down a a drop cloth we had handy and start putting tubs in place to catch the water.(dumping those every 20 minutes sucked!)

As I go downstairs I see light shining from across the street... it's a neighbor shining a light into the darkness trying to get a view of the storm... mind you the storm is at full roar at this point... I decide to chance it and run out 4 doors down to his house to see if they have nails. THEY DO!!! Back to the house and I am able to fabricate a frame work to keep the roof caving in further. Lucky!!

Once the eye hits I see the damage from the out side and wonder just how good the frame I built will hold up... it eventually started to give way but held out just long enough to get us through the storm. Afterwards we were lucky enough to know someone who can help get the tree off the house, but in doing do we managed to sheer off the natural gas meter sending a plume of natural gas in the air. We had to pick up the meter restab it in to the pipe and turn the valve. It stopped the flow after a few tense minutes. Right now it's propped against the house to keep the flow off.




http://ngs.woc.noaa.gov/ike/29094C7_IKE.HTM
Sat images of the aftermath of Ike... thanks to M for the link!



:: 9/18/2008 9:40:18 AM
http://ngs.woc.noaa.gov/ike/index.html
Here is the main image page



:: 9/18/2008 9:49:23 AM
http://www.centerpointenergy.com/staticfiles/ike/outages.html
Centerpoint outage maps




Wednesday, September 17, 2008



Ok we did have major damage... not as bad as some though...

2 trees on the house. One went through the attic and into the spare bedroom.








Saturday, September 13, 2008



did someone say damaage so far we have two trees on the house and a 2' x
5' hole in the roof. The side of the guest bedroom is partily caved in. Keep
checking I'll try and post a picture.




Friday, September 12, 2008



I've set up a cam and weather monitoring station. You can monitor the results here...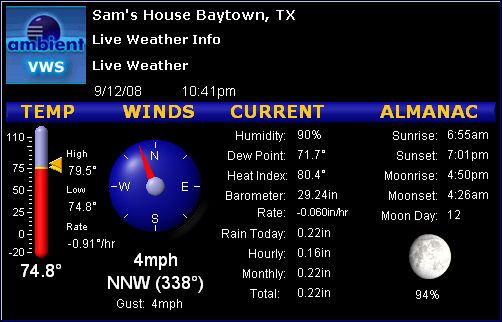 http://samuland.com/extras/webcam.asp

I feel the wind speed is a bit suspect as I did not calibrate it and it seems to be hovering around 6 mph which is not even correct!

We've already had a tree blow down in the neighbors yard... it was dead but there you go... I'd say it's been closer to 20mph ... it's really picked up in the last few hours and the rain has just begun as well...


Ok as asked for... The cam is pointed to the street. I do not know how I will get a good picture but I will try




Wednesday, September 03, 2008



Long time no post ... I know sorry!!!! Anyway something to make up for it... DragonCon 2008 pictures!








:: 9/3/2008 10:54:06 AM
http://arstechnica.com/news.ars/post/20080903-tivo-fans-rejoice-hd-mpeg-4-tivo-returning-to-directv.html
Be still my heart!!! DTV has a chance to survive!!!!! Thanks to R for the link ... I feel faint!!! TiVo fans rejoice: HD, MPEG-4 TiVo returning to DirecTV