Thursday, May 30, 2002



I don't have much time today so i will say ... watch for the upcoming events! You know I never really thought I'd be the cruising type but I dig it. i.am.on.my.way.to.a.sunburn peace!




Wednesday, May 29, 2002



for all you pimps out there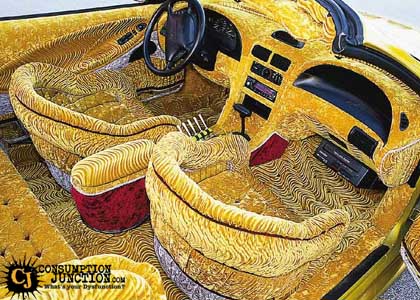 Phew 2 days and counting... Got the house sitter, the baby sitter, the dog sitter and mail and paper sitter all worked out so I'm down to the part where you go... hmmm how do you pack for a week long deal? For those of you who are regular, keep on coming back, I am going to bring my laptop and they have internet connections on the boat so I will be blogging if possible. I intend on posting photo albums of the days events as well. I may not do this every day but keep checking back! Nice pimpalicious pic thanks to consumptionjunction.com.

The year-end TV ratings are out... go see if your show is on the list. Thank god for Tivo! Positions 1-5 are all on our season pass list, so is 9,65,67,93!, and 104! A bunch did not make the list but they are on cable...QAF, Battlebots, Trading Spaces... etc!

As I have blogged on before, if you'd like to see where I am next week...click here... this is the ship telemetry... and watch my blog!

You know it's quittin' time so I'm going to get out of here pretty quick...and I'm getting a new light saber today! i.am.sam

WAIT!!!!! I have a last minute bonus! Shirley Q. Liquor ... thanks L for this one! my teeth are dry now...




Tuesday, May 28, 2002



I am still damn tired from this weekend... I feel that vacation heading my way like a frieght train! Whew I'm needing it too! Well I got my cable modem this weekend and it's freakin waaaaaaaaay fast. I mean fast fast! I broke my PDA this weekend and now I'm freaking out about it! Damn it! What did I do on this long weekend? I went to Katy Mills Mall and it was pretty good, we ate a Johnny Rockets, my mom even went. Sunday night Angie and I went dancing with J and L. Retro Revival at the Roxy. It was nothing but 80s dance music and it was v.cool. At the end we saw some girl getting felt up by some guy while she watched in a big mirror... of course the rest of the club could see as he pulled her shirt and bra up to her neck and had go... it was real crowded and reminded me alot of the Ocean Club. Lot's of fun!

Are we going to Mars next? the way has been paved...errr frozen

It's like Starship Troopers! Bugs are controlling the weather!

Go here for the worlds smallest website... to funny... try the pong game.

Try The Amazing Ass-a-Tron .... stick an ass anywhere on the web.

Best link of the day right here! Have you ever been anywhere and wanted to check your email, but your provider does not have one those fancy web based email sites... now they do! This place will let you read your pop mail from anywhere on the web... v.cool

i.am.sam




Thursday, May 23, 2002



I'm a happy camper today... I finally found those Leches M and M's and they were damn good too! One week 'til cruise day... ready to go I am!

As if we don't get enough caffine already... how about some caffinated soap! thinkgeek to the rescue!

Any of you out there use Netscape? They just released 7.0 preview release 1... have a review ... I'm using it now and it kicks ass! v.fast and tabs, oh those wonderful tabs!

As some of you avid readers know I'm into replica props from movies... ok mostly Star Wars but hey how cool would it be to have Capitain Kirks chair! I'm guess you have to have some money for this game!

WARNING Factual error was discovered on the Internet Oh this could be the end!

Any gamers in the mix? Doom III is coming soon! Looks pretty good too!

You know I'm diggin' titoonic pretty cool looking page!

I got this email from a friend of mine L. It is real and it really was sent in response to one of those satisfaction letters they send out... to damn funny!


Bonnie Vargo
Customer Satisfaction Manager
Sterling McCall Lexus
10422 Southwest Freeway
Houston, Texas 77074

Dear Bonnie:

Thank you for your letter inquiring about my satisfaction with the repair to my car. In general, my wife and I could be defined as Very Satisfied with the service we receive from Sterling McCall. We think the world of Rick Lee, and put service high among our reasons for both driving a Lexus.

My wife and I differ, however, in our interpretation of what we hear from the service department. On Tuesday when I was told "we will call you when the car is ready on Wednesday or Thursday," I believed that I would get a call when the car was ready on Wednesday or Thursday. My wife heard "call us when you want us to get started." On Friday morning I called to ask about the car, and was told "it should be ready in a few hours", my wife smiled and informed me that this really means "ok we will get started right away."

Later, when I got a call telling me that "the car was ready," I believed that the car was ready. My wife heard, "come on by, and we'll see how things are going." Half an hour after my wife dropped me off to pick up the car, I stopped hearing "we'll have your car right out," and started hearing "sign here for a loaner, so you can make it back to Houston for lunch."

A charming but frustrated service manager apologized, explaining that he was unable to start the car. I did not want to embarrass the man, but as I prepared to leave in my loaner, I asked whether he was using the key that was in the car when it was towed in, instead of the one that fits the new ignition lock his department had probably installed that morning. If you recall the episode where the Three Stooges are in jail, but the door is not locked, then you can appreciate the look on his face before he disappeared down the hall again. He looked better a few moments later when he returned with the car. As they say, its not rocket surgery.

When the car came to Sterling McCall, I had asked about what I thought were worn shocks. As it turns out, it is a rod in the front of the car that needs to be replaced. Before I left, your service manager asked if I wanted to "schedule the repair." This time, I heard "call us if you go out of town for a lengthy vacation this summer, and we'll keep your car for you."

Yours very truly,
-name removed-



i.am.sam




Wednesday, May 22, 2002



Dooda... is all I have to say today!

I love this. It turns out some M$ code is badly flawed it may be a national security issue. Damn!

Ever wanted to be a DJ? Have fun! This really is pretty incredible isn't it?

That's all i.am.sam




Tuesday, May 21, 2002



Naked Chicken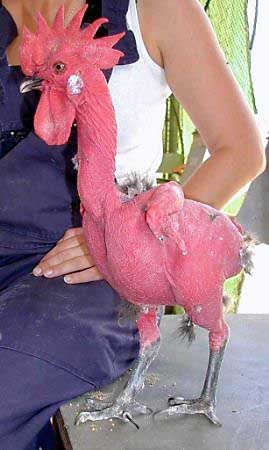 Me so sleepy... I got a haircut! Yep after a 5 month hiatus from the chair I decided it was long enough. My guy kicks ass, so if any of you are looking for someone new, go to Art of Hair on Richmond right accros from Cabo and all that... ask for Roger he is part owner. Anyway I feel lighter on my feet now. Speaking of feet my damn toe is still hurting, it better get sorted out before my cruise damn it!

While China has yet to put a man in space, they do have reservation on the Moon... yea right


Step right up and buy your Origami Boulder Right Here!


Wondering WTF is up with the Naked Chicken

WTF is that smell!!!! 3 Stench Ridden Days...
... this reminds me of a similar thing that happened to me.

A long time ago in a galaxy far far away, myself and a roomate rented an apartment. Let's see two 20 something guys, I'd say things didn't stay real clean in this apartment. Anyway one day there comes a smell... it's bad too. I thought it must be a dead mouse or something in the vent, you could really smell it when the AC was blowing. After a few days of this we complained to the manager. They sent someone to the roof to check for slime in the AC pans and they looked in the vents, nothing. After a week it's really pretty rank but we are starting to get used to it. I asked my downstairs neighbor and they to are smelling this yuk! Well after 7 or 8 days I venture in to the kitchen, as you do, and I noticed a little ziplock on top of the fridge... hmmm there seems to be chicken in this bag... it's not frozen, I wonder if this could be what's smelling up the place... sniff sniff sniff, nah nothing E just left this out when he was getting something from the freezer... maybe I should open the zippBLAM!!!!! Let me tell you, you know that scene at the end of Indiana Jones where all the shit came out of the Ark and flew around melting everone! That's what came out of this baggie... I crumpled to my knees, I saw white light, I thought I was gonna die! My nose hair eventualy grew back... neither of us knows how it got up there, it was probably me.

oh man I can't go on after reliving that... i.am.sam





Monday, May 20, 2002



Well I have seen AOTC twice now and I'm ready to go again! Go back and read my Saturday, January 26, 2002 entry to see how much I loved Star Wars... I have to tell you, I have the itch again. I found myself feeling giddy today as I opened my new Clone Trooper action figure and set him next to my Artoo and Darth Maul figures at my computer. I find myself wanting to buy toys, for Dade, so I can play with them. I hope he finds the magic and wonderment in the movies that I have and that I feel right now. I also inquired about a working version of an OB1 EP1 saber today, I hope there are some left! As I have said for the last few blogs I loved AOTC and I am going to end up seeing it a few more times if for nothing else just to prolong my high!

BTW AOTC is doing very good in the box office too!

I know many of have often asked yourselves what would happen if I popped a water balloon in space? Find out!

Did you know the next version of The Matrix is coming soon... see for yourself... I think there may be two back to back!

Speaking of movies ... the word on the street is that Blade is going to be a 13 episode series on HBO, complete with Wesley Snipes as Blade! I can't wait!

In the latest round of my console is cheaper... Nintendo drops the Gamecube price to $150... last week it was XBox to $199 and PS2 to $199 ... I smell a war... yea!

Wired Magazine haas come out with a list of the Top 20 SciFi movies of all time... Gattaca number 2 are they high! WTF!

The X-Files is over and no I have not seen the final episode due to the Survivor show last night but hey, that is why I have a Tivo! Anyway if you saw it and need to see the timeline of what went down over the whole series (MAJOR SPOILERS FOR THOSE WHO HAVE NOT SEEN THE LAST EPISODE)check here.

i.am.samu




Thursday, May 16, 2002



I went to see AOTC today. Six of us went from work. I do not want to ruin it for anyone, but let me say I did not blink the last 45 minutes... oh yea and I am now in love with Natalie Portman... yeow! She grew up a bit... oh yea and Yoda is the shit!

What shall I start with... hmmm it seems to me that AOTC has gotten slammed by the critics... not true... Time does not think it's bad, neither did USA Today. I think that when a movie has this much hype people are going to go in expecting it to wipe thier ass for them. It is what it is, I liked it, hell I loved it! So for all of you who would rather tell me the critics hated it than go and see for yourself, keep it to yourself. Your wasting your breath on me, I've already made up my mind.

I already have a Skywalker ANH saber and a Vader ANH saber. If you'd like one of your own go to Master Replicas, they make very good replicas of some of the sabers and weapons in Star Wars. Of course all true Jedi build thier own sabers.

If you'd like to build your own props, I'd recomend a board like Prop Planet or A.S.A.P. ... I think, I must be crazy, I want to make a pilot clone costume... to fine! If you'd like to build R2 then I'd suggest Droidboy. I want one!

i.am.going.again.tomorrow.samu




Wednesday, May 15, 2002



Wow what a couple of days it's been... I had a late meeting yesterday so I missed the whole blog thing sorry... Today I'm late as hell but whatever... I started to go to see Star Wars at the midnight showing last night but the internet had the listing wrong! It turns out it's tonight so I guess I'll just wait now. I think a bunch of us will go and see it tomorrow at lunch. Cool! Anyway how about a link or two...

Remember the article about how some CD protection schemes were actually damaging Apple hardware? I mean physicaly breaking it! Well it turns out that the protection is pretty easy to break with some magic markers and some sticky notes... read about it here.

Do any of you play online games? FHM has put out a list of the top 100 online games... does yours rank?

This nutter built a Tesla coil on his porch with enough power to shrink a quarter! Insane!

I've added a photo album from our trip this weekend if anyone is interested. Photos

now where did I put my light sabers?
i.am.jedi




Monday, May 13, 2002



I have not recovered yet so this ought to be short. I must get it together before tomorrow since I am planning on going to the midnight showing of AOTC.

A friend of mine L sent me a bunch of different listings, all of them good so here we go!
For that gangsta in all of us

Innmate classifieds with the emphasis being on class!

Would you buy that? has things that are/have been auctioned. This one was of particular interest!

What does your phone number spell? phonespell.org can help.

and lastly... empty website . com ... I think the name speaks for itself.

i.am.sam