Thursday, August 26, 2004



Back to back baby!
I just realized the special edition of Purple Rain came out this week and I have yet to go and get it! WTF!!!

Wanna see some weirdness ... WTF was that!

Ok when you are this good at foosball, you need to get a life...

Pepsi and Matrix minus the special effect... cool video... not the best of this type I've seen.

Ok I've blogged about Real Dolls before and isn't this timely with this weeks episode of Nip Tuck, but WTF! Are people really that turned on by cartoon characters! Hentai Realdoll ... freaky!

cya! btw war Heffron! vengance! late




Wednesday, August 25, 2004



Ok so yesterday I went to Home Depot to order some stuff from the Pro Desk... nada they closed up shop at 6p so I ask if anyone can help me and 2 very nice people that worked there said to go down to special services and I could make my order with them and they would take it to the Pro Desk in the morning. Well the yay-hoo behind the desk at Special Services was a high school kid and par for the course would rather sluff me off and tell me he couldn't do it than try and get it sorted out for me. Why do I tell you this... well it seems to me that our whole country is going down the crapper. I swear if you own a store and could get the help to act like they care, the way it used to be when I was 16 then then you would make a killing! Every time I go to McDonalds or Six Flags or anywhere the person behind the counter seems to be oblivious to the fact that you just stood a 20 minute line even though there was only 2 people in front of you... I watched this girl at Burger King pick up her clipboard and count something under the counter and make a few notes and generaly fart around for about 5 minutes after she had served the guy in front of me. Never making eye contact, acting all along like she just had to get this one thing done and f'it that customers had to wait. It seems like this happens to me everywhere I go, I had a girl singing to me at Waterworld once for the rain to come and so we would all have to go home... when I was 16 and working at the mall I would have been fired over this! Unfortuately this seems to be the way things are now, it seems as if the employers have their hands tied and they are afraid to fire anyone these days.... sad state of affairs.

Someone sent me this link of 2 kids playing Doom 3... seems fake to me but maybe not... funny regardless.

Some of this is pretty funny.

Do not leave your shit out in the open, you never know when it might end up online! ... yuck!

Ecer wonder what would happen if you saved all of your toe and fingernail clippings? Have a look... disturbing!

tight pants?!

Yet another in the long line of the drunken film festival...

Saw this in FHM and damn it that is freaking cool in big ass geeked out sort of way! Paper Arcade!

must.work.sam!




Monday, August 23, 2004



Another weekend in the books... PLayed some Texas Hold'em this weekend. What a freakin hoot that was!!! To fun, and Angie got 2nd ... again! Only bad thing was when we got home on that night a storm had knocked out every one of the sensors on my house alarm save one was shot! I guess some lightning struck near by. So I spent Sunday with a multimeter tracing down burnt resistors and sensors gone awry... I somehow managed to get them all repaired though...

There is a new worm out there called "Peeping Tom" and if you have a webcam guess what it can do :)

COULD IT BE!!!!! Lucas might make episode 7,8, and 9!!!!! yes!!!!

What's that?!?! Aluminum Glass!??! v.cool!




uber::geek
Antquarium

Origami is way cool... look at that dragon!

More girl fighting ok ok < ahref="http://www.muchosucko.com/video-lamestfightever.html">Boy fight

PRON alert!
Neo-Pron at it's best! This is a pay site but there are some freebies to be had...

i've had enough for today... samu








Thursday, August 19, 2004



have you been watching the Olympics?Great stuff happening, I know Phelps didn't get all the gold but he is still bustin it out... and the Hamm dude falling ont he Pomel then pulling two 9.8s out of his ass! WOW! Did you see the Water Polo game the other night where the USA team won the game with no time on the clock! WOW!!!! I'm all eat up with it now... hope no terrorist do something bad, this is turning out to be really good...


Oh man... I just ran across a couple of links that made me go wow...

First is one hella girl fight... and we are not talking about ripping clothes and pulling hair here we are talking about to girls throwing down! Amber v. Madison Dayum!

Then this little advert... golf balls ... even though it's fake it's funny...

Ton's and ton's of vids over at Heavy

Wow! nice site!

GEEEEEK Alert!!!! Micro flying robot v!cool

Ok I have one of these toys... Big Trak .. like I need another project! Crap! Why did I have to see that!

You know I'm a mozilla freako ... well they just relased an iCalendar clone called Sunbird. Looks cool, but I'm not likely to give up the Outlook calendar functionality right now... maybe if they build a way to sync it with Pocket PC PDAs then there is hope.

BTW today is the Google IPO looks like it's coming out at $85.

Ok I am very aware you cannot read this but this looks so damn cool!

More TECHNOLUST! Drool

Do you have XM? For your PC? How cool is this!!!!

enough...for now... i.am.sam




Thursday, August 12, 2004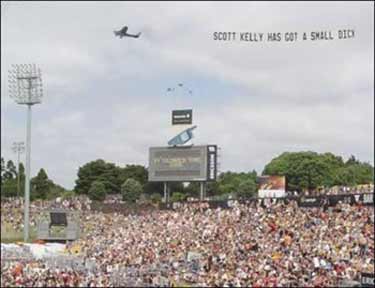 wow long time no bloggy... I've been waaaay too busy... I can't even remember the last entry so I'll just ramble for a bit...

the last 3 fridays in a row we went to concerts... it was crazy! Kid Rock was first. What did we do, first we've seen KR 2 other times in the last year so we decided to wait to see the weather since it was at the Woodlands, before buying tix... well the day of was crazy and what did I do but find myself trying to get in to the show depite the deluge that was dumping on my head... we got in and the show was as good as always, that guy puts on such a kick ass show!

Next was 3 Doors Down, Puddle of Mud, and Nickleback again at the Woodlands... this time heat wave. It was not Africa hot it was worse, no wind and high humidity! It was a steamer! Anyway the show was cool... NB was awesome. Side story was I decided, after several years of cheap sunglasses, to buy some nice ones, well lo and behold there was a sunglass hut at the venue?!? WTF anyway I knew what I wanted and bought a pair of Oakley Half Jackets so cool! Well I owned them for about an hour by my best guess because by the time the show was over I had lost them. Damn!

Next on the venue was Prince at the Toyota Center. Oooooh baby that was a kick ass show! He jammed good and hard for 2.5 hours in the middle he did a little acoustical him and a guitar set... to cool... for me the best of the three!

I also somewhere along the way bought a Specialized Hardrock Pro ... it's pretty cool and I've had a blast riding with Dade and Angie in the evenings and stuff... Dade and I even went and rode Memorial Park... until he fell and busted up his elbow.

Work is crazy nuts these days tooo... Just last week I was in Orange Count and L.A. for business, see my MoBlog for a few snaps... guy on a Segway and The Viper Room! Cool!

enough about all of that how about some links...

In the WTF category... Wood Block Clock

What is this world coming to ... Toys 'R Us is gonna quit selling toys!... I'm not kidding either!

Drooooooollllll

For those who like to play with P2P Seewhatyoushare.com ... very interesting!

how about a nice conservative t-shirt...

Ok I know she died an all but damn I bet she had one hell of an ass groove working... woman stays on couch so long she fuses to it!

Speaking of fat... 321 lbs lost only 450 more to go!

OMG!!!!! This tricked out scooter whoops up on a tricked out TA! OMG how does he stay on that thing.

Pimp my BRIDE yea I said it right !

gotta jet... i.am.sam