Saturday, December 29, 2001



Angie and I went to see LotR yesterday and wow! I was blown away by the scenery and just amounts of stuff! They did a great job of showing a new place that was like earth but was not... I say it's great movie go see it! I also had to go to work yesterday for a couple of hours so I guess yesterday was my real last day whatever... I was just watching the news and they are saying that we be having a Siberian Blast coming our way by the 5th. Coldest temperatures in 5 years they are saying... of course I'm heading to Sin city on the 7th so that ought be perfect timing. ughhhh

Can't think of a new years resolution? Let the computer help you.

I just barely got firewire and now they changing it! Apple is going to make firewire firewireless!

hmmm interesting url... deadbodies.org has the years 100 sexiest women. I have to say I agree with alot of these but not the order they are in...

i.am.sam




Thursday, December 27, 2001



I'm sorry I haven't been keeping the ol' blog up to date... well we made it through Christmas... Dade got waaaayyyy to much stuff... I'm so glad I had a boy. Now I get to go back and play hot wheels and build with Tinkertoys! Anwyay today was my last day of work... I'm not officially terminated but that is what it boils down to. I'm gonna take a couple weeks to collect myself and then get after finding gainfull employment. Anyone need a web dev/network admin type?

Can you see all of the internet? maybe not

in just a couple of weeks I'm off to the land of sin to see the Consumer Electronics Show. It is geek heaven and may only be rivaled by Comdex for looking into the future of technology... you too can look at the future of the PC. Here are some specs and I think a kind of wishlist for the coming year or two... the most potential on the list? Organic Led Screens... my wife has a cell phone with this technology and it is fine! I can't wait for them to get real video working well.

Is OBL alive or dead? I say if he's dead good. The US can claim he is alive and place him where ever they want target terrorism. If he is not really dead there is no martyr to rally behind... I think it's a win win for the US.

ok I've seen it to so let's just put a sock in it right now... I have seen the trailer to I am Sam and yes that opens the door to many many jokes... keep 'em to yourselves please... i.am.samu




Monday, December 24, 2001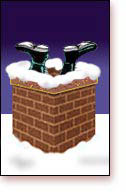 Merry Christmas to everyone!

Well the business of tracking Santa Clause has gone high tech! NORAD is getting into the game! See the site for details! They even have a Santa Cam on the radar page!


I was reading in the newspaper yesterday, yes real print ugghh, about this teacher who asked her class what they wanted to do for christmas this year. Well much to her surprise last year they innocently read a christmas story while having hot chocolate and this was THE thing they wanted to do again.

Now I remember when I was growing up going to Grandmaws house on the 23rd then the other Grandmaw on the 24th. It was always a big to do! Grandmaw number one always had Bordens Eggnog for me because she knew how much I loved it and I always looked forward to it sooooo much. I always thought it was just betweeen her and I ... I could be wrong but that is way I want to remember it.

Grandmaw number 2 always made a big meal and had lots of relatives over, it was always a big deal I learned of Bing Crosby, Perry Como, Burl Ives and Frank Sinatra here and though I think no one else really knew it I would always lay down under the tree and look up at from underneath... this went on until I was about 16 or so... we don't do that any more.

Times have changed but one thing has not... Christmas in the eyes of a child. The things you do now will be the things your children remember! They will grow up wanting these things to continue until they are ready to make a family. Something as simple as having hot chocolate on Christmas Eve or having a get together at the same place every year is important. So maybe you should put on you childrens eyes and take a look around. I woke up this morning and my four year old was pounding on the floor Christ-mas Eve, Christ-mas Eve, Christ-mas Eve... and it made my heart warm and for a few minutes I was in his place and remembering my childhood... I hope this feeling never fades...

Merry Christmas everyone!






Saturday, December 22, 2001



fill in your own caption here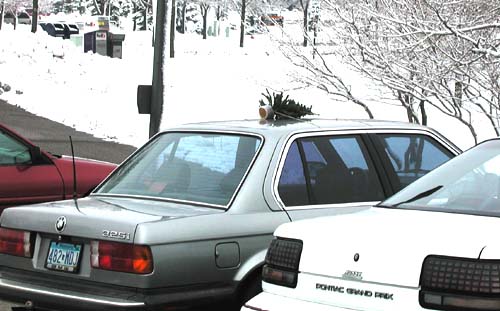 Quick update here. I have had time to reflect on the old job situation and I think the first thing most people do is freak out and run out and get something, anything as quickly as possible well I do not have to do this so I have decided to take it slow, weigh my options and not jump at the first opportunity. Now this is a slippery slope... you can't expect a job offer to remain open for a month or more so I will have to time this just right. I am going to try and get the best advice I can, and I will take it from there.

My friend big G sent me this link. I thought the best part of the whole thing was the last paragraph.
" Of everything bin Laden had to say, what bothered me most was his praise for another Arab who had taunted Americans by saying "If you are true men, come down here and face us." Well, bin Laden, we've accepted the invitation. And where are you now? Hiding in a cave. You coward."

Another friend E sent me this link for the world most popular joke. And to quote E "Hardly worth it..." I concur.

Any Simpons fans out there? Here is a detailed map of Springfield! v.cool

I've pointed out MIT hacks on here before... here is another! LotR

Ok This is very large. No pun intended. It attempts to solve the mystery of Britney's Breasts!

One of my favorite sites on the net! UP IN FLAMES! What is the world coming to!

I think I may be switching to Trillian. It is an Instant Messager that does ICQ, MSN, AIM, and Yahoo along with an IRC agent... pretty neat and now a bit more stable, I like it!

Silly

for those of you keeping up I won my division in FF and I'm on to the playoffs this week! Wish me luck!

One last note I am looking for a better way to show the archives than having page 1234 etc... maybe by month then day? Not sure yet... any suggestions? Please send them here.

well I'm off to brave the mall and maybe Toys'r'Us... am.i.insane






Wednesday, December 19, 2001



Alright I don't even want to talk about it today... not wanted 'nuff said.

Copy protected cd's are here now ... read about it

f this I'm not in the mood right now... OUT!


Ok I found this so damn funny I had throw it out there right this minute!!!!! Go here and read this. Rumpus is now dead dotcom toy company. You think the web guy was happy he was let go? i.am.sam




Tuesday, December 18, 2001



mmmm Barrymore

Holy crap is my head spinning today... that damn Netgear router I bought won't do the NAT translation the way I want to, as confirmed by thier tech department, so that POS is going back to where it came from. I need to say thanks to all my friends who are helping in the job quest you guys are the tits!

Ok a contribution from L first one from L I think... anyway There is the magazine called Found and it is basically stuff people have found... click on NOTES followed by PAGE ME LATER... to funny lots of other gems here have fun.

Did the terrorist attack MicroSoft too! Or is this guy a nutball? You tell me.

It seems as though George Lucas always catches heat for his Star Wars saga because of lines like "Yippeee!" well there is a movement to let Peter Jackson be the director and writer of the next 2 movies ... even though Attack of the clones is already mostly done. It turns out Lucas has always done all writing and directing and been involved at every level at every detail. Well he may be loosening the reins a bit if you want to help(right) go here and sign the petition.

Hey guys Drew Barrymore is back on the market! Gee it only took 7 months to figure Tom Green was a bit strange... ummm ok! Not so strange he didn't knock it with some of that though!!!

Finally from across the pond when you have nothing better to do click here and make sure you wait for it to load :) from Dave... whom I don't really know but hey any friend of AH is a friend of mine!

i.am.sam yes it's a balmy 70 degrees and sunny... where did I put that swim suit?






Monday, December 17, 2001



Ok I don't know what icon to give for todays post, I'm happy about christmas coming and stuff and then I'm just gutted about the impending doom of my wallet... if anyone knows of anything out there I pay 20% on web site work to the bringer. All you have to do is introduce me and maybe make a few phone calls. Anwyay, We had a little get together last night at the house and it went pretty good. The kids stayed upstairs and pretty much kept to themselves and we all stayed downstairs. It was pretty good fun!

First link today may end up being a big one sooner or later... Google has the ability to search online catalogs now... didn't work so good just yet but they are pretty good, give them time.

Anything for a buck! Have you every wanted to just run into the perfect girl but you just can't seem to get the right situation? Coincidence Design can help. For a fee they will script out everything for you to meet that dream girl in just the right situation. This is kinda over the top...

Spiderman is getting closer ... new trailer here... it's worth the wait on the download! WOW!

Bin Laden offers one last chance for the US to surrender...from the onion.

Go here and see the christmas tree that you can turn on and have it play music from the web.

Are there any Simpsons fans out there? The Simpsons and Philosophy: The D'oh! of Homer ... yes it's a real university and a real credited class!

i.am.sam

fin





Thursday, December 13, 2001



Weeee... it's the weekend for me! I just sent out 1500 emails ... got spam? Anyway holiday parade in Baytown tonight for Dade, I'm sure he'll like it. Christmas is winding down for those who have not shopped yet... get out there and save the economy... uhh ok will they save my job?

Anyway JC outdid himself today he just sent this to me...
This little tidbit of information was just forwarded to me, and it may interest some of you. If you have your TX Driver's license. Turn it over and look on the back. There is a state wide 1-800 roadside assistance number. This is a free service paid for by the state with your tax dollars. So the next time you need Mr. Rescue, a gallon of gas, a tow truck, or whatever, look on the back of your DL and use what the state has already provided for you. Rather than paying some other bozo.
I looked and it is there! Does it work? Don't know but how cool would that be if it did!

JC also sent in this eBay auction. Read it carefully... it states very slearly that it is the box only ... some little kid somewhere is not going to be happy on Christmas day!

Big G spotted this in the chronicle... No more 60/65/70 speed limits... 55 baby... That SUCKS!

Ok have you had bad service somewhere and just wanted to get that guy or tell someone how bad it was or something... use the web! This is a powerpoint presentation about the Doubletree Houston and how bad it was... good for a laugh!

Give this guy a penny...I really wanted this up here because the site is bobupndown.com !

That's all ... good night folks... i.am.sam







Wednesday, December 12, 2001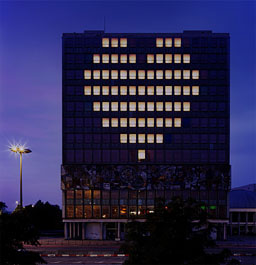 What a freakin day! Look if you know me I'm having a bad luck kind of day today... it starts off alright, bu thten I go to install this CDRW it should take like 10 minutes and it does, bu the bundled software won't work with it so after 3 hours of screwing with that, it's going back to where it came from. Then the office down the hall loses power. So freakin maintenance man goes in the utility room and just starts flipping switches off and on. He manages to shut down our whole floor and kill all of my servers, when they come back online nothing works. Turns out one of the old PDCs was still attached and when the power came back on so did he. Well he took over authentication and well it f'ed up everything! Once I got that sorted out the mail server would not work... all related to the PDC business... SUCK! Anwyay then I was working on this router and it would not behave like I wanted it to ... after I told it a few explitives it straighted itself out. Now after all that I'm scared to drive home! What else is going to go wrong! Anyway... hey I did have a good lunch today!

S sent me this... read this about Randy Moss, you knew he was an F up now he's proved it!

This is kinda neat! 20 years of archives of the usenet, hosted at Google!

Sperm Donor has to pay child support... this is a bit ify ... of course I don't think I like the donating part so much either... I don't think I'd like to knowing have some kid out there and parent it.

Have you ever seen when those high rise buildings light the windows to spell something out well blinkenlights lets you design something for the building yourself, there is even a webcam to see it, you can even play pong on it using your mobile phone DAMN!!... v.cool

Anyone listen to NPR here in Houston it's on 88.7 I think anwyay they have a story about the BLOG phenomenon you can listen to here if you can get through. NPR is pretty good sometimes give it a listen.

i.am.sam