Sunday, October 30, 2005



http://www.big-boys.com/articles/breakoff.html
WOW Breakdancin' skills!




Thursday, October 27, 2005



http://www.chron.com/content/chronicle/sports/baseball/fans/worldseries/game4/gallery.html
My friend J is in the lower right corner!



:: 10/27/2005 9:57:03 AM
http://homokaasu.org/gasgames/game.gas?21
Gravity Game v.cool




Wednesday, October 26, 2005



Did you stay awake? I did... and in the end we got beat. This time it fair and square. Hell they blew a homerun call on us even! So we should not have been there. I really hang this loss on Bud Selig. All year long the roof has been closed. All through the playoffs, closed. For 4 months closed. Yesterday Bud MADE us open it. Not cool. What happened to home field advantage. This is our home field we cut the grass the way we want! Do all those things that Chicago got to do except... our little thing this year... closing the roof. F'in Bud. This is on your head funny how he's on record as liking the Chisox!?! Hmm... and then there is the issue of All Star game. The winner get's home field advantage. So where is that again? Screw you Bud... the quote from the commishiner's office "they can complain all they want I don't care." ... it was done for "fan comfort" which fans? I'm guessing every stinkin fan in Htown wanted closure! Screw you Bud you did this to us ...


http://sports.espn.go.com/mlb/playoffs2005/columns/story?columnist=caple_jim&id=2203947
Astros




Monday, October 24, 2005



What a freaking weeeeeekend... I was in Dallas for Thursday and Friday. Friday night Casino night! FUN FUN FUN, played poker until 1am. Got home Saturday morning and from there I have been 100mph with my hair on fire! Work in the garden, work on sidework, work work work! Tried to get my MythTv box to work before the Astros game on Saturday... uhhhh no. I just got a HDTV card for my PC and wanted to record the game on it... nope failed miserably. I will say I was writing code with one hand and installing with the other so I didn't give it the full press. That evening we went to R and P's to watch the game and have a feww drinks. It was great even though we lost, the alcohol and friends made up for it and I left not feeling that bad about it.
Sunday... work work work, another stab at the MythTv no go need an antenna! go eat at mom's, go get antenna, still no worky, but better. This sucks! More work until game time. crap forgot to fix the clogged up sink... in between inning run upstairs, pull the gooseneck clean it out, reassemble, leaks like a sieve. Damn to late for a new one. ScreW THIS! Go watch the game it's now 2-2! Berkman rocks! 4-2! Blown call at the plate to load the bases, uh oh this is how they got to the series! BAMO crapppppppppppp. 4-6 shitola. Top of 9 100mph pills flying and dink, walk sub in vizciano and looper... Chris Burke makes a fantastic slide! Alright 6-6 maybe the umps won't steal this game from us. Lidge is in, crank... WTF!!!!!!!! SHIT!!!!!!!

Ok conditions were bad 45 and raining.

I think the Astros need to be in despair to win. Think about it all season they were in the cellar, they pulled out, but could not put it away until the end when they had to... same with the 2 playoff series. can't just win it easily no got have have Pujols jack one to the Woodlands and make the Astros seem like underdogs again even if they were technically up in the series. I mean everyone and everyone had written them off. This is the same thing... set us up for dramatic comebacks... let's hope they one more in reserve.

i.am.samu


http://www.forgewebdev.com/nanoswarms/nanoswarms.htm
LOST - Weird stuff! WTF is that!



:: 10/24/2005 10:46:04 AM
http://www.livejournal.com/community/lost_tv/749723.html#cutid1
More Lost wildness!




Sunday, October 23, 2005



http://www.mortecouille.com/index.php?2005/10/22/49-ouragans
This takes forever to load but it's facinating wacthing the 'canes form and move on...



:: 10/23/2005 1:11:01 PM
http://media.putfile.com/Drunk_Dial
Drunken rambling chick calling a personal ad



:: 10/23/2005 1:19:37 PM
http://www.weakgame.com/?show=3691
THE BEST OF QUAGMIRE! If you don't watch Family Guy Q is the neighborhood perv. ... oh the pain of laughter...




Thursday, October 20, 2005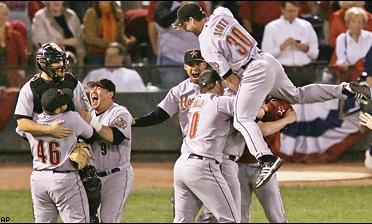 PINCH ME! PLEASE!


The spiral down... it's dark in here! I don't know what to do?! We've never actually won before! Sweetness, joy! I am so about to pop it's unBEElievable. Ok I was sure we were done after the Pujols homer. Even though I/we have had years of training with countless clutch losses, Astros 86, Oilers v. Bills, Phi Slamma Jamma! The Pujoles home run just crushed me. I couldn't even work right the next day! Now we actually do not choke and ... uncharted territory! Ahhhhhh soak it in just enjoy it. I didn't want to miss anything last night I had to be up at 4 this morning but I was just not wanting to miss anything...1am bed. Before that... I heard that Academy would open if the Astros had won to sell pennant t-shirts and the like. I had the bright idea of driving down there, I thought eh... there will be some crowds but it will be ok. I'll fight a little but I'll have me a tshirt that says champion! On the way Angie calls me and tells me turn around they just showed the stores open and the East Side store is not on the list. I decided let me call just to be sure. Two idiot 411 operators and still no answer, ahhh screw it almost there by now... I crest the overpass and WTF there is a traffic jam at the exit ramp, light and into the parking lot! No scratch that it got to be some high scrool hang out or something there is just tooooo many people for this, plus look at that crowd of people in the parking lot of the Whataburger (same parking lot as Academy, Sam's Club, Circuit City and Home Depot)... I press on, people are hollaring and honking horns... and that crowd, uh no try 1/2 mile long line waiting to get in to Academy! HOLY CRAP! I turned around. For those who know where I'm talking about the line wound through the parking lot all the pay to the Whataburger. I am not talking single file here either! It was a crowd, and the parking lot... I was going to have to park at east side of the Home Depot!

...anyway, Astros fans soak it in... this was 44 years inthe making, smell it, sip it, swish it around, then drink like it's the last drop you'll ever get because who knows when it happens again!

JOY!JOY!JOY!JOY!JOY!JOY!JOY!JOY!JOY!



comments(3) : + add +
.:: Kim
I can't wipe the smile off of my face.....pure joy. GO ASTROS!!!!!!!!!
.:: angie
I think I pulled a muscle in my leg jumping up from the couch! WAY TO GO 'STROS!
.:: GregOr
I still can't believe it! I honestly don't think it has sunk in.


Wednesday, October 19, 2005



http://backpackit.com/
Interesting? kinda... Make lists and organize things... I think I like it because it's AJAX.




Tuesday, October 18, 2005



i.am.devastated...


One f'in pitch! damn... one pitch! why! As a Houston fan you come to expect these things. Look at last year... had it, blew it. '86 Astros... ughhhhh, Need I bring up the Oilers? Two words Renfro and Bills...but this was different, things were going our way... 18 innings and we won! 3 in a row! 3 to win 1! Lance and the 3 run shot! only one pitch to make it all real... single, walk, bamo... oh yea I am a Houston fan... this is my penance. If we ever make it will be the sweetest, biggest, best, and most! It will be Nirvana even if they lose! Heaven on earth the end all be all... until then there is always next year.

i.am.the.deadman.walking



comments(1) : + add +
.:: zelda q
damn you pujols!
damn you all to hell!